For writing, planning & living intentionally
Refill & reorganise pages without tearing
Customise with accessories
Personalise with a monogram
A unique gift for the stationery lover in your life - or maybe just for yourself...

Choose a size and colour combination as individual as its owner, then add fountain-pen friendly papers, diary packs or productivity-boosting templates to suit how you like to think, work and plan.
The last notebook you'll ever need
Putting pen to paper helps us to organise our thoughts, remember our notes, and brings our dreams and ideas a step closer to reality. A notebook can be a place for practicality and creativity - a place to store meeting notes, shopping lists and phone numbers, or a place to write a story, draw a picture or empty the mind
We set out to create the perfect writing experience – a notebook that could accompany you on your journey through life, providing a mix of inspiration and practicality that is as individual as you are. We wanted a William Hannah notebook to last for many years - wearing well with daily handling and changes in your writing, journaling and planning habits.
Veg-Tanned, Full-Grain Italian leather covers are lined with a high quality Italian suede. Choose strong, contemporary colours or classic leather and suede tones to express a little bit of who you are. The William Hannah stainless-steel disc system refines a binding method used for over 75 years, with unique modifications that provide stability and security, but with just enough movement to allow fluid page turning. The beautiful engineering allows for pages to be added, moved and removed easily without tearing.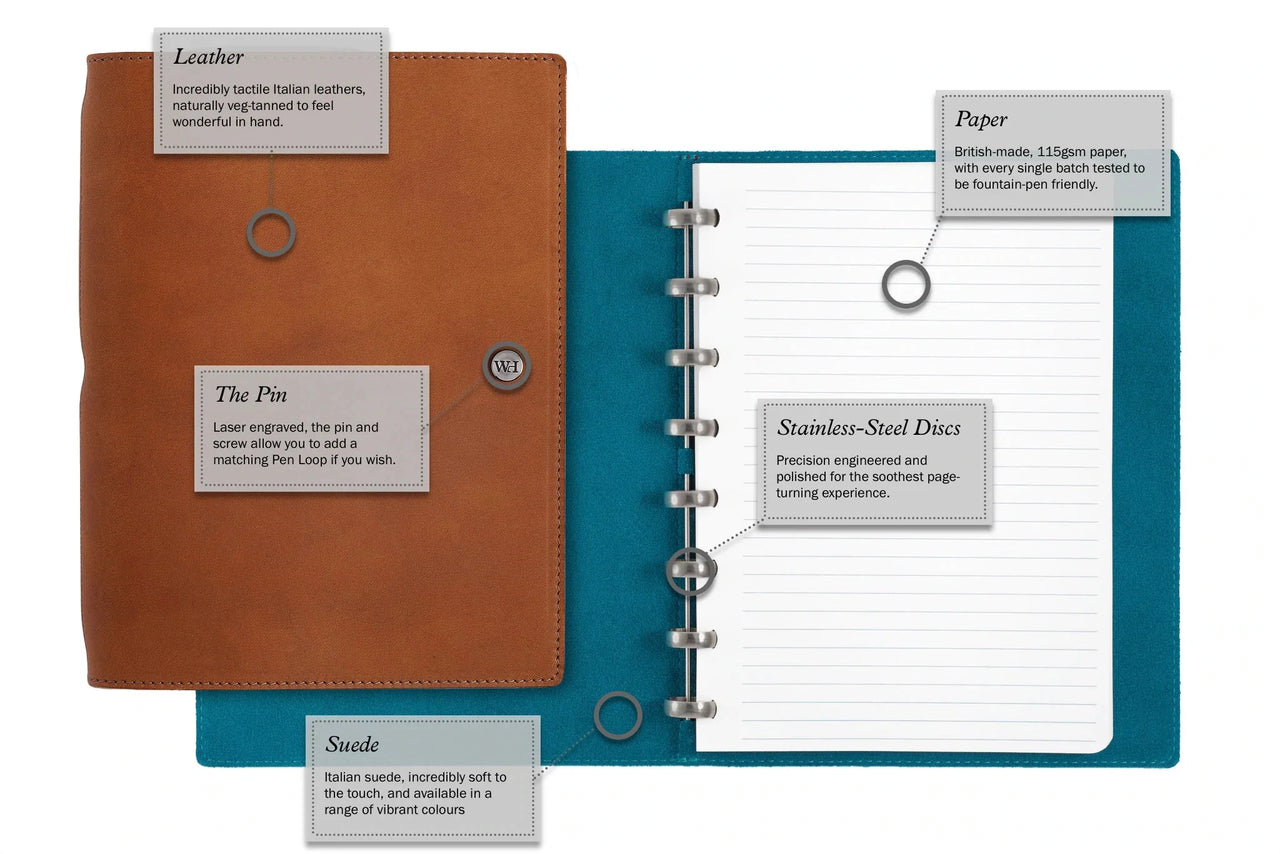 Small Notebook
Large Notebook
Diary, Planning & Writing Pages
Diary, Planning & Writing Pages
For journaling, planning and intention setting..
Accessories
Pen Bands, Dividers, Bookmarks, Archiving Sets and more...
William Hannah - more than just a notebook
Our products are borne out of personal experience, and the importance of writing in tackling challenges and realising personal successes. Our mission is to you to do the same. We want to help you make positive personal changes through journaling, habit tracking and goal setting. Be part of a global community of William Hannah users experiencing the power of just writing things down. 
#BecauseWritingHelps
We wanted a notebook for professional people who needed somewhere to write their work notes and to do lists, and separate them from private thoughts and ideas. We wanted to create a notebook that could help in the struggle of balancing work and life. We wanted pages to be easily added, moved and removed - so that when a moment of private clarity arrives in an endless meeting, it could be written and remembered, and then easily removed and stored at home. This was the beginning of #BecauseWritingHelps...
OUR STORY
The William Hannah Community
We're inspired by sharing our mistakes as well as our successes, and the William Hannah community is the perfect forum to share yours with a whole host of friendly and supportive creatives and professionals from all over the world. Subscribe to our 'Daily Post' e-mail series, which candidly explores the challenges of life, of a career and inspires us to keep writing to overcome them...

What do you want to be inspired to do ?
EXPLORE DAILY POSTS